B4X founder
Staff member
Licensed User
Longtime User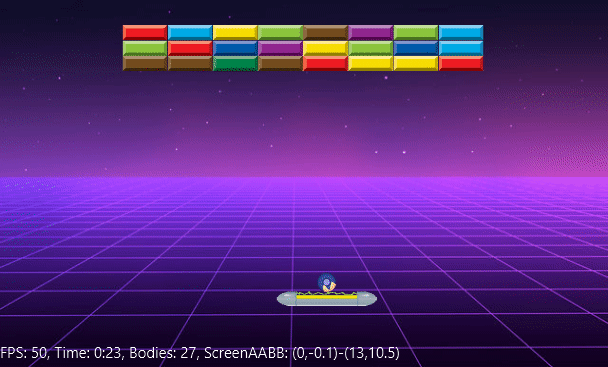 Interesting points:
- The ship movements is managed in the same way it is managed in the Space Shooter example. A motor joint moves the ship to the touch position.
In B4J it can also be moved with the keyboard.
If touch.IsInitialized = False Then
        ShipMotor.MaxMotorForce = 0 'disable the motor
    Else
        'the touch panel is wider than the game screen so we need to fix the offsets and clip the value to the game screen (ivForeground)
        Dim x As Float = Min(ivForeground.Width, Max(0, touch.X - (ivForeground.Left - PanelForTouch.Left)))
        Dim v As B2Vec2 = X2.ScreenPointToWorld(X, touch.Y)
        ShipMotor.LinearOffset = X2.CreateVec2(v.X, ShipMotor.LinearOffset.Y)
        ShipMotor.MaxMotorForce = 50
    End If
- It is a bit challenging to model the non-physics game in box2d physics engine. After trying all kinds of things, I've used brute force, literally. The main problem was that the ball started moving up and down or sideways. The solution is to check the horizontal and vertical velocity and apply force if they are too slow.
There is also a check for the total speed and the ball is pushed if it is too slow.
- The spritesheet is a bit strange and requires some work to extract the correct images.
- No doubt that moving to B4XPages makes the game lifecycle simpler.
I've used the resources from Ilan's example:
https://www.b4x.com/android/forum/threads/game-making-video-series.130388/
. Thank you Ilan!
Example is available in github:
https://www.b4x.com/android/forum/threads/xui2d-x2-v2-0-2021.131279/#content