Finally I was able to upload an app to Google Play.
Add Banner ADS to it.
Create YouTube Tutorial video.
I have put info about B4X in Google Play page and also YouTube page.
This is my way helping spread the words for B4X Power with Simplicity.
All credits to selfless members, without whose free code and help, it would not have been possible for me to complete the app.
Few names in no particular order,
Erel
Saif Sameer
Sagenut
Asales
Aeric
Lucas
DonManfred
and all Experts of our Forum
About the app
Add, change, delete to-do items.
Move items up or down in the list, manually if required.
Active and completed items shown in different colors.
Backup and Restore items.
Share items.
Simple and intuitive touch interaction.
Widget shows list in clear and compact manner.
Widget resizable to any size.
Images (of version 1.00, released 1.02 now)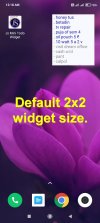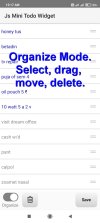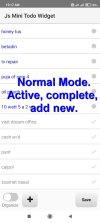 You Tube Tutorial
https://www.youtube..../watch?v=nTwDCIZMLX8