This library is similar to B4A and B4i GoogleMaps libraries.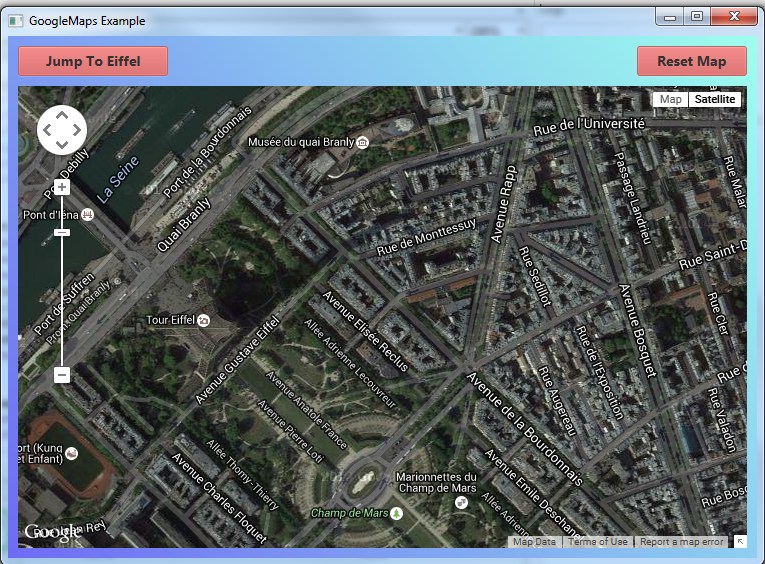 It is based on this open source project:
https://github.com/dlsc-software-consulting-gmbh/GMapsFX/
(Apache 2 license).
Under the hood it uses JavaFX WebView with GoogleMaps JavaScript API V3.
Using the map is quite simple. You need to initialize GoogleMap and then wait for the Ready event.
GoogleMap.AsPane returns the pane that holds the map. You should add this pane to the nodes tree.
Once the ready event is fired you can add markers or change the position.
Updates
:
V2.00 - Depends on OpenJDK 19. Previous versions will not work.
1. OpenJDK 19.0.2 + OpenJFX 17.0.6:
https://www.b4x.com/b4j/files/jdk-19.0.2.7z
2. Add to main module:
#PackagerProperty: IncludedModules = javafx.web
#PackagerProperty: AdditionalModuleInfoString = exports com.lynden.gmapsfx;    exports com.lynden.gmapsfx.javascript;    exports com.lynden.gmapsfx.javascript.event; 
#PackagerProperty: AdditionalModuleInfoString = exports com.lynden.gmapsfx.javascript.object;    exports com.lynden.gmapsfx.service.directions;    exports com.lynden.gmapsfx.service.elevation;    
#PackagerProperty: AdditionalModuleInfoString = exports com.lynden.gmapsfx.service.geocoding;    exports com.lynden.gmapsfx.shapes;    exports com.lynden.gmapsfx.zoom;
3. Add reference to jOkHttpUtils2.
The standalone package will not work without steps 2 and 3.
Last edited: