Google Play Developer API allows you to access your developer account and do all kinds of things. For example get the latest app reviews or check the status of in-app purchases.
Like with all other Google services, we will use GoogleOAuth2 class for authentication:
https://www.b4x.com/android/forum/threads/79426/#content
This example is made of two projects:
1. A UI project that is used for the first authentication. Note that it doesn't show any form.
2. A server project that uses the token created in the first step to access the
inventory API
. The inventory API is just used as an example. It should be simple to change it to other APIs.
- The first step is to link a project in Google Play developer console: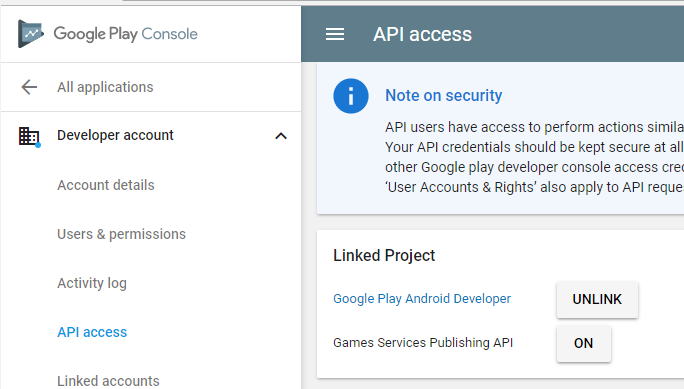 In this project you need to create new credentials (type = other).
You need to get the client id and client secret.
Make sure that Google Play Android Developer API is enabled.
- Update ClientId and ClientSecret globals in the two projects.
- Update the package in the code and run it. The browser will open and you will be asked to authorize the app to access your developer account.
- If all goes well you will see a list of the available in-app products.
This will also create the token file that will be used by the server app
- Run the server app and test it with:
http://127.0.0.1:51042/inventory?package=your.package.here
You should see the json response: